Every day, subways in New York transport millions of people between all five boroughs, across 27 lines and 472 stations. But did you know that many of these subway lines are over 100 years old?
One. Hundred. Years.
Meaning, much of the infrastructure and technology is horribly outdated and overused, considering it runs 24 hours a day, 365 days a year.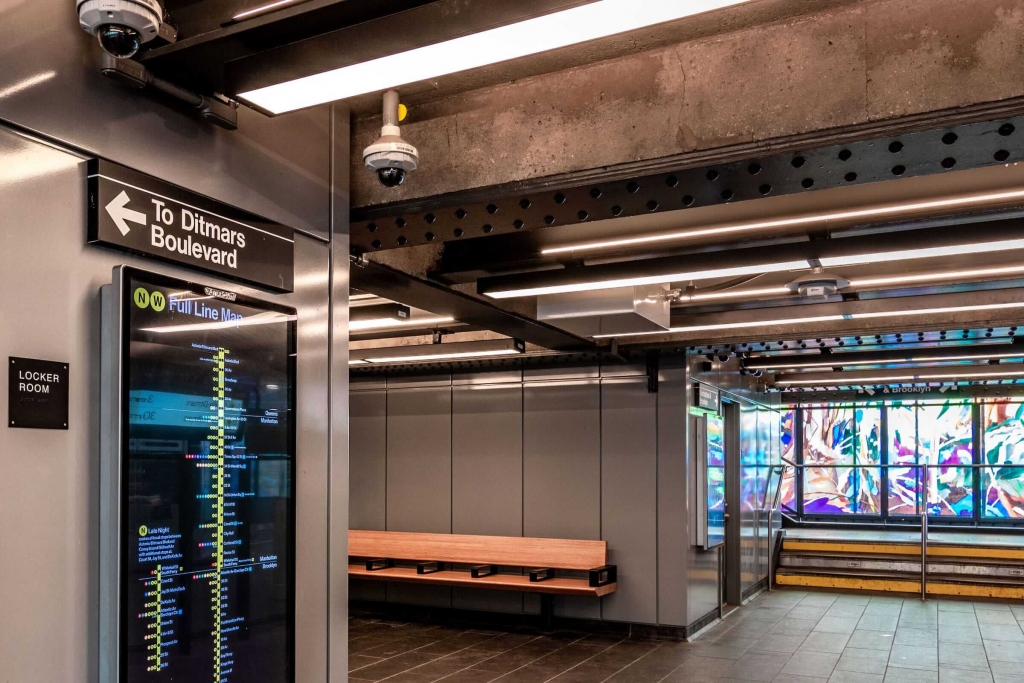 Or it was, until Governor Cuomo included the renovation of dozens of subway stations in his 2015-2019 Capital Program, part of the New York City Transit (NYCT) larger $16 billion budget. The Enhanced Station Initiative (ESI) Program, spearheaded by NYCT, was a major investment in the infrastructure of the MTA. It focused on providing state of the art repairs, upgraded design and an improved rider experience through design and innovation.
In this first-ever design + build initiative for the NYCTA, the MKJ Team could not be more proud to have been the system integrator on all of the stations completed. Working in tandem – designing and implementing in real-time with our partners, EJ electric, Citnalta-Forte JV, and ECCO III Enterprises, Inc, we completed every single one of these stations on time and per budget.
Up to 33 stations were slated to get a modern facelift, and MKJ was chosen to provide state of the art technology to keep riders safe, on time, and informed.
According to Besmir (Benny) Ameti, Senior Project Manager at MKJ, "it was an extremely fast-paced job, as we were working against the clock to keep the stations out of commission for the least amount of time," all 33 of which had either full or partial closures at some point. It was a design-build project, which is not typical for these types of projects for NYCT, so it was kind of new for everyone, but our team thrives while problem-solving."
Benny continued, "It was really amazing to work with the agency solving design issues without haste, completing a project that had previously taken upward of two years in 8 months. By taking stations out of service while the work was done optimized all of the trades' ability to work unencumbered. The trade-off was that it was crucial for the schedule to be adhered to and stations opened back up on time. There was a sense of teamwork from top to bottom, from the commencement to substantial completion."
Savni Sandbor, Project Manager at MKJ, was another problem solver on the ESI project, dealing with everything from fulfilling different requirements at each station to figuring out how to coordinate long lead times so stations were only closed for a short time. Savni shared, "From 2017 up to early 2019 we were working on about 18 stations simultaneously, which all had different requirements, so the systems and design changed accordingly with each station. From surveys and drawings to identifying the actual requirements, it was a great experience and opportunity for the MKJ team to put our heads together and overcome any obstacle put in front of us."
One of the biggest challenges was timing the procurement due to the long lead times, approvals, and the huge quantities of equipment. Thankfully, MKJ has incredible relationships and resources that we were able to tap into to get the job done on budget and on time.
Which was the most challenging station to get moving, literally? According to Savni, it was the 174TH St. station in The Bronx. "The station had 3 floors, and we dealt with all types of CCTV applications like passenger intrusion detection, NYCT surveillance, NYPD surveillance, and platform edge monitoring. It is imperative for the platform edge monitoring to work for the train to come on the platform and open and close doors securely, but we had a last-minute issue and the station could not re-open without it. We had only two hours to figure out the issue, but in the end, after Team MKJ had already pulled a few crazy 4 am track surveys on the holiday weekend, we figured it out and made the December station re-opening right on schedule.
MKJ enhanced stations in Queens, Brooklyn, and Manhattan, and designed and integrated the following systems:
CCTV for platform edge monitoring system
Surveillance CCTV system
NYPD Surveillance CCTV system
Passenger Identification CCTV system
Public address (PA) system
Customer information system (CIS)
Street Level CIS Displays
Communications Room Power Plant Upgrades
Help Point Intercom (HPI) and Passenger Station Local Area Network (PSLAN)
Street Level Totems
NYCT Agent Booth Upgrades
Interested in learning more about this project? We can talk you through each and every step of the design and build phase, or better yet, meet us at the site or at our brand new office where we can walk you through our state of the art fabrication warehouse and you can see our products up close. Contact John Massaro, our vice president of engineering and operations, at Jmassaro@mkjcomm.com